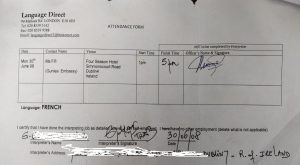 In a rare and a very special occasion, we have permission from management to publish the attached. Language Direct was honoured to be selected as a service provider for The Hon'ble President of Guinea.
Our archives are full of similar attendence forms showing Language Direct services used by high profile public figures. For security and data protection of high ranking officials and VIPs we usually do not publish details of certain clients. That is our standard practice and code of ethics.
We are a surely "Service fit for a President", yes literally.
Give us a try.