Healthwatch released a report in January 2020 on an investigation they completed on the reality of interpreting for refugees and how effective services were in the North Yorkshire region. There were insights from 49 refugees in total, along with 25 mystery shoppers sent to 25 pharmacies. This blog will cover some relevant findings from the research which we as a translation and interpretation company find important.
Healthwatch are an independent champion with local groups across England seeking to improve health and social care services.

Overall findings on interpreting for refugees:
Found limited access to interpreters to just 20% from the stories heard.
Some refugees were refused access to interpreters. Whereas others could not seek medical help without an interpreter, yet they were not provided by the service.
'Google translate' was used often despite the known mistakes and misunderstandings which could occur.
Telephone interpreters were unclear and difficult to understand.
Refugees were not given a choice of gender appropriate medical interpreters. This could have made them uncomfortable if there were any personal issues to talk about.
The booking systems were unclear and no promises were made to guarantee interpretation services would be provided.
There were no pharmacies in the region that offered verbal interpretation.
Staff and patients were not aware of information on interpreters guidance and responsibilities.
Statistics:
According to Migration Yorkshire, there was an estimated arrival of 2,500 – 2,800 new immigrants in North Yorkshire in 2016 who were expected to stay long term. This raises the question of how will refugees seek assistance when it is an existing problem right now? There is a demand that needs to be catered to and with the availability of interpreters, there should be more opportunities to them as they are there.
In schools, there are 5% of primary pupils and 3% of secondary pupils whose first language is not English. They require support to settle into an unfamiliar educational environment and thrive along with their fellow classmates. This can affect children's mental health which makes it even more significant to have language support.
The NHS campaign "Stay Well" encourages people to visit their local pharmacy first for clinical advice. How can we expect non-English speakers to do this if there is no support in place?
Existing Principles and standards: 
The 2018 "NHS Guidance for commissioners: Interpreting and Translation Services in Primary Care" states 8 key principles: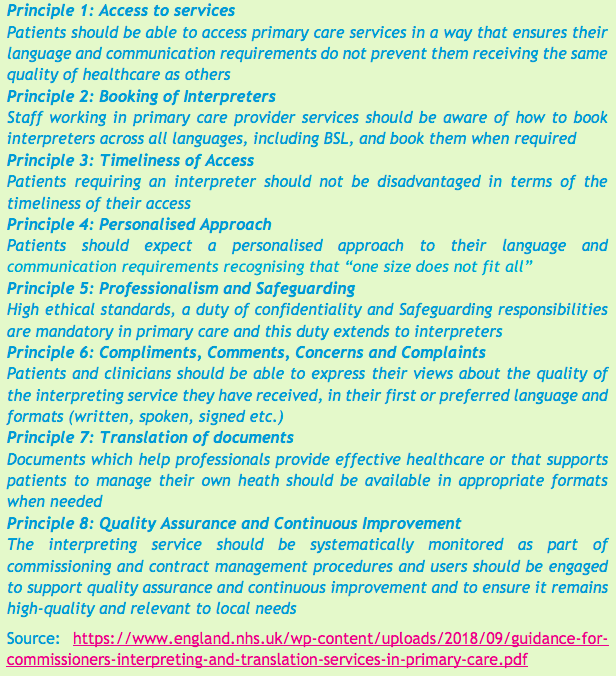 For "the General Dental Council's "Focus on Standards" set out 9 principles of conduct, performance and ethics that govern dental professionals. Under Principle 2″ it states: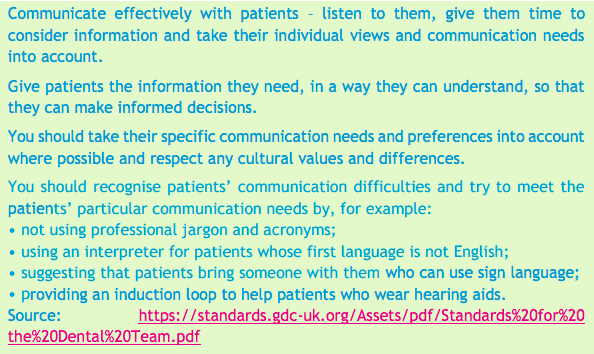 There were 49 refugees questioned about their experiences, these were the findings:
10/49 people had access to an interpreter, 7 said they had a good experience whereas 3 others said they had a negative experience.
24/49 refugees did not have access to interpreters.
5/49 refugees were told to expect an interpreter but they never showed.
Many of these people were unsure about their rights regarding interpreters and how to access them.
Overall, this information has been found from Healthwatch's official report and is limited to North Yorkshire. Problems are evident but despite the limited access to interpreters, some refugees, even if it is a small amount, are receiving help. More reports like this are needed so the government and other companies can work hand in hand to guarantee support, along with more jobs for interpreters and translators to make the industry flourish.
For more on Interpreting for refugees, here are some relevant articles:
This article is based on medical interpreting which should be accessible to all as health is important. Check out this blog for reasons to use medical translators and interpreters:
Reasons why you should use medical translators and interpreters
BSL is another type of interpreting, here are some tips for working with BSL Interpreters in medical settings: