Learn some useful Greek phrases and make your trip to Athens or Crete.
We can provide you with a Greek Translator or Interpreter today! Book here | Request a Quote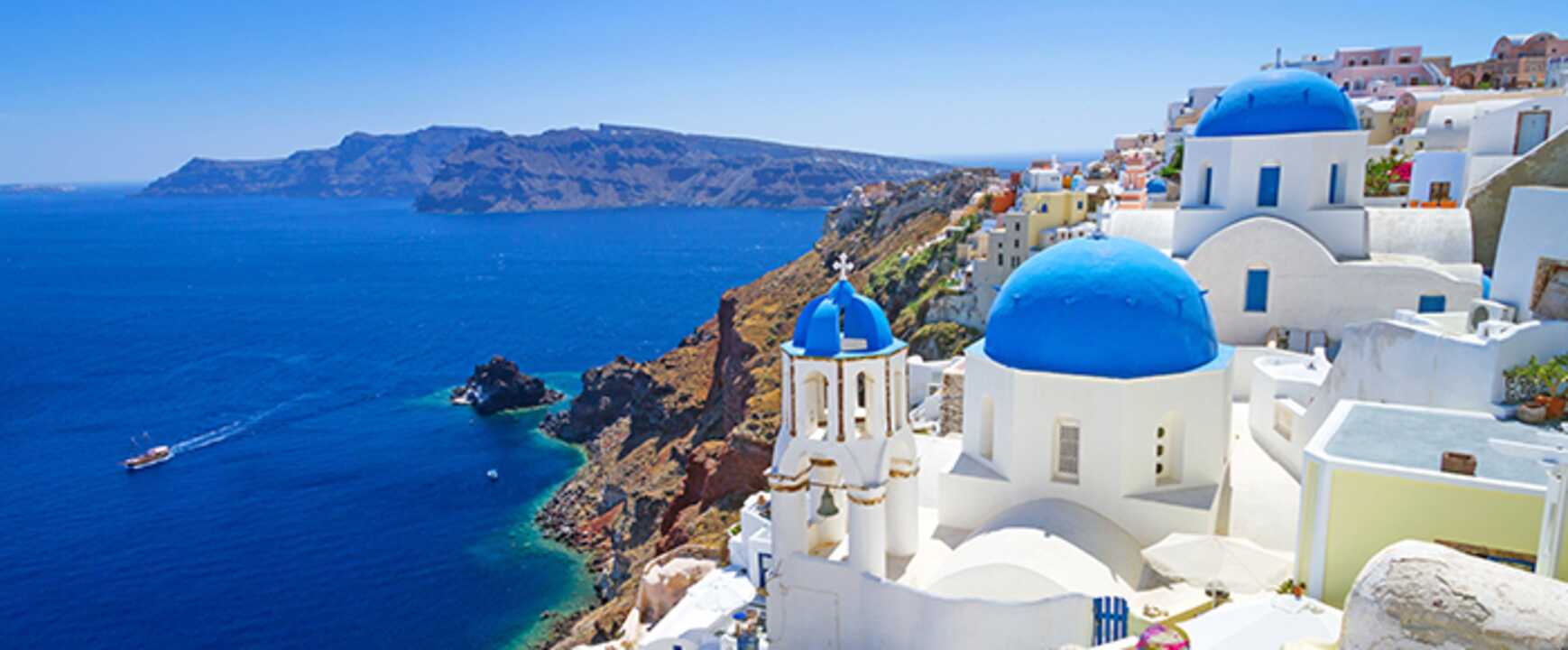 Greece has a mystique so unique that it attracts millions of tourists every year. With its gorgeous beaches, amazing art, rich culture and history and world class cuisine, honeymooners and backpackers alike fall in love instantly. If you are planning to explore Greece, you may want to take a short course on Modern Greek, hire someone to do Greek translation services, or learn a few useful Greek phrases to help you in your trip.
Useful Greek Phrases
Learn how to say these useful Greek phrases and you'll surely have more fun whether you plan to lounge on the beach, go shopping or see the museums.
Conversations
Welcome! – Kalós orísate! (form) / Kalós órises! (inf) / Kalós ílthate! (form) / Kalós ílthes! (inf) / Kalós írthate (form) / Kalós írthes! (form)
Hello!  –  Ya! (inf) / Ya su! (inf) / Ya sas! (form) / Éla! (inf – phone) / Léyete! (form – phone) / Embrós! (inf – phone)
How are you? – Ti kaneis? (inf) / Pws eiste? (form)
What's your name? – Pws legesai?
My name is ___. – To onoma moy einai ___.
Pleased to meet you. – Hárika ya tin gnorimía. (form) / Hárika. (inf)
Good morning! – Kaliméra sas! (form) / Kaliméra su! (inf) / Kaliméra!
Good afternoon ! – Kaló apóyevma
Good evening. – Kalispéra. (coming) / Kali bradi. (going)
Good night! – Kaliníhta!
Goodbye! – Yiá sas! (form) / Yiá sou! (inf) / Αutio!
Good luck! – Kalí tíhi!
Bon appetite! – Kalí óreksi!
Bon voyage! – Kaló taksídi!
I don't understand. – Then katalavéno.
I don't know. – Den kserw.
Please speak more slowly. – Parakaló miláte pyo argá. (inf) / Parakaló míla pyo argá. (form)
Do you speak English? – Miláte angliká ?
Do you speak Greek? – Milás Elliniká? (inf) / Miláte Elliniká? (form)
Yes, a little. – Ne, ligáki.
Excuse me – Me sinhorís. (inf) / Me synhoríte. (form)
Sorry! – Sygnómi!
Thank you! – Efharistó! / Efharistó polí!
You're welcome! – Parakaló!
I love you. – S'agapó. (inf) / Sas aghapó. (form)
Get well soon. – Perastiká.
Help! – Voíthia!
Fire! – Fotyá!
Stop! – Stamáta! (inf/sing) / Stamatíste! (form/plu)
Call the police! – Kaléste tin astynomía! (form) / Kálese tin astynomía! (inf)
Call a doctor! – Fwnakse ena giatro!
Call the ambulance! – Thlefwnhse se ena asthenoforo!
Happy Birthday! – Hróña Pollá!  / Harúmena genéthlia!
Merry Christmas! – Kala Xristoygenna!
Happy Easter! – Kalo Pasxa!
Congratulations! – Sygxarhthria!
Transport / Getting Around
I'm lost. – Xathhka.
Can you help me? Mporeite na me bohthhsete?
How can I get to ___? – Pws tha paw sthn Athhna?
Can you show me? – Mporeite na moy deiksete?
Come with me. – Elate mazi moy.
How long does it take to get there? – Posh wra tha kanw gia na paw ekei?
Where is the ___? – Pu íne i tualéta? / Pu íne to báño?)
Downtown (city center) – Kentro
Historic center (old city) – Istoriko kentro
Tourist Information – Touristike's plirofori'es
Post office – Taxidromi'o
Museum – Mousi'o
Bank – Tra'peza
Police station – Astinomiko' tmi'ma
Hospital – Nosokomi'o
Pharmacy – Farmaki'o
Store, Shop – Magazi'
Restaurant – Estiato'rio
School – Sholi'o
Church – Eklisi'a
Restrooms – Touale'tes
Street  – Dro'mos
Square – Plati'a
Airport – Aerodromio
Bus station – Stathmos lewforeiwn
Train station – Stathmos trainwn
Train – Tre'no
Bus – Leofori'o
Subway, Underground – Metro'
Taxi – Taksi
Ticket – Esiti'rio
How much is the fare? – Po'so ka'ni to isiti'rio?
Where are you going? – Pou' pa'te
Hotel  – Ksenodohi'o
Room  – Doma'tio
Reservation  – Kra'tisi
Are there any vacancies for tonight?  – E'hete e'na doma'tio gia' apo'pse
Left / Right / Straight – Aristera' / Deksia' / Efthi'a
Up / Down  – Pa'no / Ka'to
Near / Far – Konta / Makria
Map – Xa'rtis
Food and Dining
A table for (one / two) please! –  Trapezi gia enan/dyo parakalw!
Is this seat taken? – Einai h ayth h thesh piasmenh.
I'm vegetarian. – Eimai xortofagos.
I don't eat pork. – Den trww xoirino.
I don't drink alcohol. – Den pinw alkool.
What's the name of this dish? – Pws legetai ayto to piato?
Waiter / waitress! – Gkarsoni/Gkarsona!
Can we have the check please? – Ton logariasmo parakalw?
It is very delicious! – Einai nostimotato!
I don't like it. – Den moy aresei.
I'm hungry. – Peinaw.
I'm thirsty.- Dipsaw.
Breakfast – Proino'
Lunch – Mesimeriano'
Dinner – Bradino'
Vegetarian – gia hortofa'gous
Beverage -A napsiktiko'
Coffee / Tea – Kafe / Ts'ai
Water / Juice – Nero'/ Himo'
Beer / Wine – Mbi'ra / Krasi'
Salt / Pepper – Ala'ti / Pipe'ri
Meat / Beef / Pork / Fish / Poultry- Kre'as / Mosxa'ri / Xirino' / Psa'ri / Poulerika'
Vegetable / Fruit – Lahanika' / Frou'ta
Shopping
How much is this? – Pósa kostízi aftó? / Póso káni aftó?
Do you accept credit cards? – Dexeste pistwtikes kartes?
I'm just looking. – Aplw rixnw mia matia.
I don't have change. – Den exw resta.
This is too expensive. – Ayto einai poly akribo.
Expensive – Akribo
Cheap – Fthhno
Give me this! – Dwse moy ayto!
Take this! – Pare ayto!
Do you like it? Σου αρέσει? | Soy aresei?
I really like it! Μου αρέσει πολύ | Moy aresei poly
Open – Anikta'
Closed – Klista'
A little – Li'go
A lot – Poli'
All – O'la
Here's a quick lesson on other useful Greek phrases:
Get more help on the Greek language other than these useful Greek phrases; call us today.
Language Direct it's currently providing services in London | Birmingham| Leeds| Glasgow| Sheffield | Bradford | Edinburgh | Liverpool | Manchester | Bristol | Wakefield | Cardiff | Coventry | Nottingham | Leicester | Sunderland | Belfast | Newcastle upon Tyne | Brighton | Hull | Plymouth| Stoke-on-Trent | Wolverhampton | Derby | Swansea | Southampton | Salford | Aberdeen | Westminster | Portsmouth | York | Peterborough | Dundee | Lancaster | Oxford | Newport | Preston | St Albans | Norwich | Chester | Cambridge | Salisbury | Exeter | Gloucester | Lisburn | Chichester | Winchester | Londonderry | Carlisle | Worcester | Bath | Durham | Lincoln | Hereford | Armagh | Inverness | Stirling | Canterbury | Lichfield | Newry | Ripon | Bangor | Truro | Ely | Wells | St Davids
Book here | Request a Quote