On 25thFebruary 2019 we pledged as below to give back £1 in charity for every booking we receive for a month.
Our accounts department reported a total of 3599 bookings from this period. This includes face-to-face interpreters, telephone interpreting, BSL (British Sign Language) and document translations.
Language Direct Ltd have donated a cheque for the amount of £3599 to Hasu Trust.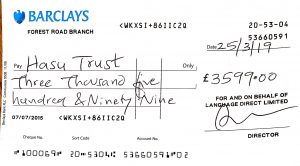 We dedicate the success of this initiative to all of our customers including but not limited to NHS sites, private hospitals, schools, universities, local authorities, creative innovation companies and designers. Certainly, we would like to thank the great individuals who flock our office daily for their personal document translations. We could not have done this without your support.
Thank you all.
Siraj Ershad, Director