Executive Team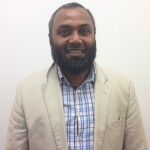 Siraj Ershad
Managing Director
As well as having a degree in Mechanical Engineering, Siraj also developed a panache for languages. He moved on to gain recognised translation and interpretation qualifications from the Institute of Linguists (one of the most prestigious institutes for languages in the UK.
From here he then went on to work as an interpreter and/or translator for United Kingdom Border Agency (UKBA), Borough of Waltham Forest Council, Language line and Her Majesty's Courts & Tribunals Service.
It was during this time the Siraj saw a gap in the market for different sectors requiring his translations and interpreting, and decided to launch Language Direct.
Cheryl Barratt
Booking Co-ordinator
With over four years' experience, Cheryl thrives on providing quality customer service, whether it be in person, on the phone or through email.
The advanced qualifications she has gained in English Language and English Literature means she possesses strong communication skills.
Maryam Khannum
Business Development Manager
A highly experienced and dedicated business developer who is fluent in four languages: English, Swahili, Arabic and Urdu.
Hafiza Ershad
General Manager
Former medical secretary with experience of working in various NHS departments. Other sectors include government departments, tourism and exports. Has experienced a variety of cultures by travelling extensively.
Sophie Ellis
Sales Executive
As a creative director of her own company and previous experience in accounts, administration and forensic mental health, Sophie has a broad knowledge of subjects which helps her source the correct perspective clients which she feels would benefit from working with us.
John Edwards
Social Media Marketing Coordinator
With expert knowledge of social media platforms, John is able to keep our customers, linguists and supporters happy and informed.
Kirstin Sedgwick
Customer Service & Accounts Administrator
Kirstin is level 2 and 3 AAT qualified and has run her own company in the past. She is very personable and committed to providing a second to none level of customer service.